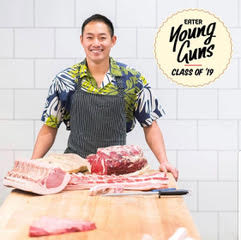 Jason Chow was born and raised in Kaimuki. After graduating from college, he went into cooking, eventually landing him at the footsteps of Mud Hen Water as part of its opening crew.
He then grew passionate about Hawaii's food system and more particularly, local meat. In order to further his knowledge, he moved to California and worked at The Local Butcher Shop and The Butcher and Larder in California. In 2019, he was awarded in the cohort of the Eater Young Guns, recognizing up and coming food professionals.
He has returned to Oahu with his partner, Harley Tunac, a baker and pastry chef, to open The Local General Store, sourcing locally grown meats and produce to be incorporated into their products. The Local General Store is where the community can come for fresh baked breads and pastries as well as locally sourced meats and meat products. Coming soon to a Farmers Market near you.